About Jack & Jill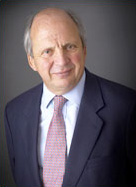 Founded in 1997 by Jonathan Irwin and his wife senator Mary Ann O'Brien, The Jack & Jill Children's Foundation provides home nursing care and support for young children with severe neurological development issues, as well as offering some respite to the parents and families.
Jonathan and Mary Ann set up Jack and Jill based on their own experience with their son Jack who was born on February 29, 1996 with severe intellectual and physical difficulties. At the time, there were NO support services available in Ireland outside of hospital for young children with such illnesses. The Irwin family set up their own model of homecare nursing for Jack which is now the blue-print for Jack & Jill's homecare services.
Jack Irwin sadly passed away on 13 December 1997 but his memory lives on through Jack & Jill.
The Jack and Jill homecare model for sick children currently supports around 300 Irish families in 26 counties and has provided invaluable help and support to over 1600 babies since 1997. Jack & Jill empowers parents to care for their children at home. The service includes home visits and care, advice, information, lobbying and bereavement support, with the Foundation providing funding for up to 74 hours of home nursing care per month at a cost of up to €1300 per family.
Every year Jack & Jill provides around 85 000 hours of home nursing care in approx €3m to Irish families of which less than €600k is received from the State – whose responsibility it should be to administer the services Jack & Jill provides! 100% of all funds raised from fundraising such as The Big Egg Hunt and commercial initiatives go directly to the families in need.