- Marks eggs suitable for outdoor!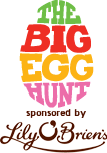 Welcome To The Big Egg Hunt Online Auction!
Now that this egg-citing hunt has begun, the time has come for the real fun to begin! A Golden Collection of around 30 eggs will be sold at live auction on 23rd March. The rest of the eggs will be sold online here. The eggs will be available to bid on until the 28th March 2013.
TIME TO GET BIDDING!