- Marks eggs suitable for outdoor!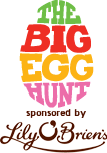 About the Auction
The Big Egg Hunt Dublin sees 100 giant egg sculptures placed high and low across Dublin city for over 4 weeks. These stunning pieces of unique and extraordinary art will capture the imagination of Dublin; each one finely designed, crafted and decorated by leading artists from around the country.
A Golden Collection of around 30 eggs will be sold at The Grand Live Auction on 23rd March in The Four Seasons Hotel, Dublin – a ticket only Black Tie Event; tickets can be purchased from The Jack & Jill offices, tel: 045 894660.
The rest of the eggs will be sold online here and will be available to bid on until the 28th March 2013 at NO RESERVE.
All the proceeds from the auction will benefit The Jack & Jill Children's Foundation.