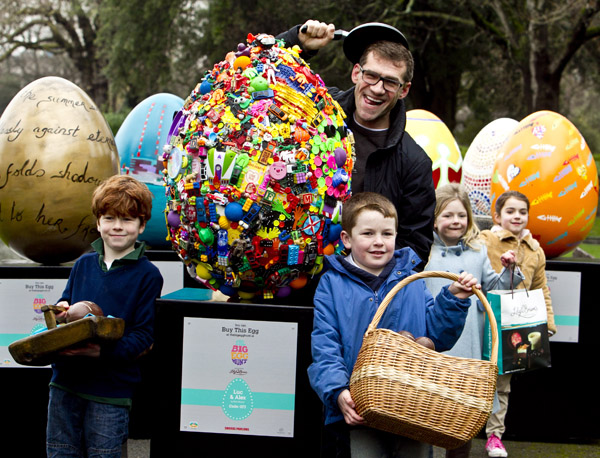 Tuesday 12th February saw the launch of what is the biggest EVER Easter egg hunt and on street art display in the history of our state. Celebrity chef,
Nick Munier
, 2fm's
Rick O'Shea
and
Cormac Battle
, and
Thelma Mansfield
along with a number of other artists were present at the unveiling of their giant masterpieces in St. Stephen's Green, Dublin.
The Big Egg Hunt will take place across Dublin City for 40 days and 40 nights. There is a map to help guide you to where these eggs are hiding (available for download). Get the family involved in the hunt to find the giant eggs, if you find 20 of these eggs and collect the special code on each of the eggs (found on base) to enter the draw for a grand prize (diamonds for Mum sponsored by Diamant.ie, chocolate factory visit for kids, and a year's supply of chocolate from Lily O' Brien's), it's fun and easy and it's for a great cause.
All the eggs will then be auctioned for charity in aid of the Jack and Jill Children's Foundation. The online auction begins immediately (on: thebigegghunt.ie/auction ) and will culminate in a live auction at the Four Seasons Hotel, on 23rd March. The hand crafted eggs are destined to become highly collectible and valuable works of art. And anyone can buy them.
Each one of the hundred eggs secreted around the city are 2 ½ ft in height and decorated by well known artisans. Big artist names decorating the eggs include Guggi, Felim Egan, Rasher, John Rocha, Ireland's newest music sensation the Strypes to household names like 2fm's Joe Duffy, Rick O'Shea & Cormac Battle.
A free picture booklet with the complete collection of eggs will be available in outlets across the city from Saturday, including: Arnotts; Stephen's Green Shopping Centre; Brown Thomas; selected Insomnia's and Applegreen outlet; and Dublin City Improvement booths.